"I am afraid of nothing. I am afraid of ab-so-lu-tely no-thing."
Pussy Riot's lawyer Mark Feygin tells me in the half-deserted Vanderbilt Hall of the NYU Law School. "I am ready to go to jail. My son will grow up and avenge me. Everyone who understands knows that this is normal — to be sent to prison innocent. Understand this, calmly. Serve time, calmly. That's just how it is."
This is where minimum Russian skills and fanatic following of the case come in handy. There's giddy reverence in the air. It's all very tragic and cinematic. Over the past few months, Pussy Riot's defense team — Nikolai Polozov, Mark Feygin and Violetta Volkova — have become international heroes, even though their clients are almost surely serving two years at a penal hard labor colony for dancing in a church and singing about Putin.
The next and last Pussy Riot court date is on October 1st. It's also a Pussy Riot world solidarity day. It isn't, however, an appeal. The girls find themselves in a convoluted legal limbo. This will be a short, one day review of the constitutionality and legality of the trial procedures. No evidence. No witnesses. Nothing. "One day, the very last resort," Volkova explains. "Then, within a week they would be sent to the penal colonies. There, a warm welcome is being prepared."
Nadezhda Tolokonnikova, Maria Alyokhina and Yekaterina Samutsevich will be separated and their respective colonies' inmates have already been briefed, Volkova explains. "They've been told these women are criminals against God, against the church. We do not know if they'll ever get out of there safe and sound. The least that they are in danger of is rape. The least!" She doesn't go into the details of how rape in a female zone rivals the male, just hints that the motivations are different and hence, the level of cruelty is more intense. "They will be sent where this will not be controlled or monitored. We are concerned for their health, but… we're afraid of losing them."
"It's possible they will be killed. It is normal in the Russian penal colonies. Our transparency about the case is our method for survival."
She says this one on one, her eyes watching mine tear up. Twenty minutes ago, Nadezhda's husband Pyotr Verzilov popped in for a quick cameo and sprinted off after the conference to, presumably, accept an Amnesty International Prisoners of Conscience award from Yoko Ono, on behalf of Pussy Riot. He has been the PR maestro, live-tweeting his wife's trial and interviewing everywhere. In person, he's fidgety and magnetic. Feygin calls the Punk Prayer's choreography "idiotic," Pyotr defends it as "interesting." They chuckle. Pyotr jokes about meeting Nadia last week and her scoffing that he gets to tour in the US while she's in jail. "That's cool…" he said she said. The crowd laughs.
"We fully expect to be arrested for a trumped-up something upon our return to Moscow," Polozov tells the crowd. "Violetta for sure." It's hard not stand with the super trinity and not be impressed, to not feel the charge of their charisma and the weight of their messiah status in the international legal community. It's also hard not to think about the "Magnitsky Act," an official blacklist of Pussy Riot-persecuting authorities and media that Verzilov is pushing hard to get sanctioned in the US, especially since we just talked about the Pussy Riot-supporter blacklist in Russia. Conflicting much? But shh, no. We need our heroes. It's about to get scarier.
Repeatedly, Feygin explains that the case is way beyond any legal matters. There's no law here, only politics. By all statutes, Pussy Riot should have been fined $30. "How do I explain to American readers that it's that bad?" I ask Polozov after.
"It's not bad. It's worse. Tell them to come and check it out."
Feygin and Polozov emphasize that the Russian judiciary system is a bribe economy but the case is revolutionizing the very way Russians do law. Volkova says that the Russian Attorney Association collectively protested the actions of the government for the first time in 100 years. "It's a baby democracy. It has a lot to learn," Polozov tells the audience. He gleams later: "Until 2011, there were no political advocates, only the criminal department. There was one — Stas Markelov — and he was murdered. Activists' lawyers were unlicensed volunteers. Only now are people starting to be able to call for help when apprehended at a protest. Legal defense funds! Rights attorney groups! No one knew you could do that before. When we took the case, I was hoping to inspire others with my example, to break this system. The process has started. People are trying to work honestly. It is one of the signs that the regime is beginning to fail."
Things got better and worse at the same time. Since his inauguration, Putin made it rain with new restrictions — fresh codes against slander, "misuse" of the internet, statutes against noncommercial organizations and an astronomical increase of fines for protesting. "That was Putin's answer to the winter protests," Polozov explains. Unprecedented since the fall of the Soviet Union, the tens of thousand-strong marches had the government at a loss, shoveling money into "clean up" — hired goons, military vans, ridiculous pro-Kremlin youth organizations like Nashi, illegal mandates for the political opposition. "But people will come out!" It's beginning to feel like a Marvel comic book. I'm hanging with the Justice League. How appropriate, considering the balaclavas. Woo?
I shouldn't make superheroes of fallible humans or feel like their bloggy little megaphone, but we are in a propaganda war and honestly, it's not hard to pick a side. Right now, the Kremlin controlled tv media is trying to convince the people that the lawyers put Pussy Riot in jail on purpose by not collaborating with the "liberal" authorities. "There are people in the provinces completely cut off all sources of information," Feygin explains. "They are most susceptible to propaganda."
"When I spoke to them, they told me Pussy Riot danced naked. Who told you they were naked? They spit and urinated on the altar. Where is that coming from? That's exactly how propaganda works. Information must be presented in its worst incarnation and 90% of the people are convinced of things that never happened."
And you thought we were still talking about a "punk" band or an "art" collective. All lawyers have emphasized these are protestors first: It so happen that it makes them civil rights activists. With the legacy of Voina behind them, Pytor and Nadia and other Voina alums motivations can't be examined outside of their theatrical bombastic context, but that doesn't make them less dissident and dangerous. "Feminism" is a naughty word, after all.
I asked Volkova if Katya was punished more harshly for being the least conservative looking of the three, as she never made it to the altar area and the judge wasn't inspired to leniency — she doesn't have kids. She's more masculine in appearance. Her closing statement was the most direct, explaining how Pussy Riot attacked the visual culture of the church where the Patriarch of All Russia, Putin's KGB buddy, endorsed him for president and Christian savior, how Pussy Riot interrupted it the visual culture of protest. "They were tried as a group, but yes, Katya is the feminist ideologue of the group," Volkova says. "But visual culture? No one is interested in that."
"They asked every witness and victim — do you think it's art? They'd all say, what nonsense are you talking about? Swan Lake is art! This isn't art!"
Pyotr insisted to me earlier this month that it's very important the public thinks it's an art collective and a band. It's better that way for press. Volkova says the lawyers had no idea what Actionism was before and punk's not her thing, but they are all much more culturally educated now. Polozov said punk is most appropriate for protest in Russia for its vibrancy and Nihilism. But in the end, that's all just journalist-baiting rhetoric and rally theme music. On masse, no one really cares about that.
So what next? In Russia, Oil rules everything around you. When Putin took office, the pathetic oil prices went up.
"Putin thought God has given him this because he is so wonderful," Polozov explains. "They are all utterly gift-less rulers who steal. If it wasn't Putin but someone normal in charge, we'd have a different country. All we've built was that bridge in Vladivostok and the Olympics complex in Sochi. That's it." Suddenly all our conversations about "European culture" winning over "Soviet mentality," about homophobia ebbing away through decades, about social change — it feels as inconsequential as anything ex-puppet leader Medvedev has to mumble. But what goes up…
"Once the oil economy gets worse, the regime will fold within two, three months," Polozov says. 
"The protests are sequestered to metropolitan areas where people know what is happening but once it touches the provinces and the villagers run out of bread, people will take the streets," Volkova says. So why do it if no one cares, I ask her. "It has to start somewhere. Protests are picking up." It's getting harder to lie.
As I leave, she points to her gadget and her Twitter exchange with a Russian cop who posted a photo of a scattered, measly-looking Putin opposition protest. She was there.
She tweeted back, "Oh, cool. I got a picture too."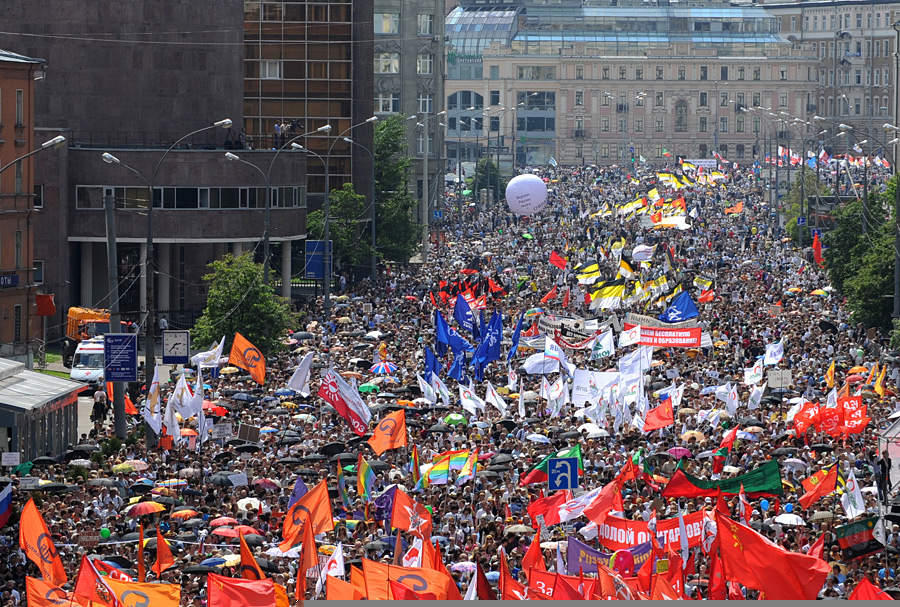 (Lead photos: Marina Galperina/ANIMALNewYork)